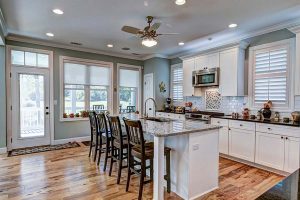 The kitchen is often the centrepiece at the very heart of your home. With many years of experience right across our team, why don't you let us help you transform your kitchen? With our building knowledge we can offer you key advice when it comes to design and making the most out of your kitchen area, before carrying out a bespoke high quality installation.
The difference with using Wessex Building Contractors is that our service can take you right from start to finish, inclusive of kitchen installations and removals, electrics, plumbing, wall alterations and structural works for open plan, flooring, plastering and finally decoration – all this without you having to worry about the stress of trying to coordinate different tradesmen.
Wessex Building Contractors can provide top quality kitchen installations, but can also provide a refit, redecorate or revamp, so get in touch with any kitchen needs you may have.
Our experienced surveyor will visit your property for a free, no-obligation appointment to examine the area and talk to you about your needs and wants. They will then be able to provide you with a no-hassle quote, and should you be happy, can get started on creating your dream kitchen!
Contact us now for a free, no obligation quote or check out our Checkatrade reviews!