How is a new kitchen going to benefit you and your family?
Swanky kitchens seem to be popping up all over social media and television as one of the must-have features of any pinterest-worthy home. It's the space in the house where social gatherings and quality time together will normally take place, so why not make yours something remarkable? If you love the way your kitchen looks, you'll be more likely to spend more time there making memories with those you love.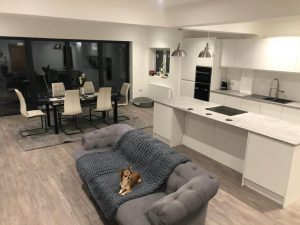 Socialising
Under current circumstances we're spending nearly all of our time at home, so bring some excitement into your life by letting us help you design your very own bespoke kitchen. This will be a great place to relax, cook and socialise with your family during the remainder of lockdown, but also a fantastic way to prepare for better times ahead with extended family and friends. We specialise in creating kitchen/open plan living areas which would subsequently become your socilaising hot spot to entertain guests. So why not transform the beating heart of your home ready for those good times to come post Covid-19?
Tailoring your kitchen
Whatever size, there is always a way to fully utilise your space, whether it's knocking down walls or building an extension we can work with you to create the kitchen of your dreams. With a wide range of bespoke fixtures and fittings available you can really make it your own, whether you like that farmhouse feel or you are after a more sleek, modern look. There are so many options available. Islands have also proven very popular in recent years, in which we can incorporate breakfast bars, great for those busy mornings on the go.
Energy Efficient / Good for the Environment
We can work with you to create an energy efficient kitchen with modern appliances that will be more economic, which could cut your electricity bill right down.
Special Needs / Accessibility
We can fully adapt your kitchen to meet your individual needs, whether it's adjustable tables, ramps or a lowered kitchen height, our team will work with you to plan your kitchen ensuring you have complete independence whilst ensuring quality.
Increase the Value of your Home
A new kitchen will add value to your home, so often wouldn't be money spent, rather money invested. A good quality kitchen will last you 20+ years. .
Save the Hassle of Having to Move
Moving home is unnecessary when you can pour new life into your old home by working with what's already there, and getting it exactly how you'd like it.